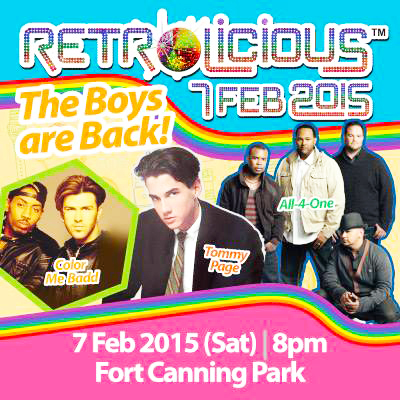 Retrolicious Festival
Fort Canning Park
A signature music festival co-organised by MediaCorp Radio Class 95 FM. Saffron managed the marketing and public relation efforts for its 6 instalments from 2010 to 2015.
Let your opinions be heard.
Say it with an emoji.
"Concert-goers had a fantastic time singing along to their favourite hits, and reliving their days of youth in a feel-good atmosphere."
– The Straits Times Life!, 8 Feb 2015


"Retrolicious, Singapore's most popular retro music event is back with more unforgettable hits from the 80s."
– Channel News Asia, 3 Feb 2015


"The line-up of performers … kept the energy high and the audience transfixed with their romantic hits."
– Toggle, 8 Feb 2015


"It was the nineties all over again when All-4-One, Tommy Page and Color Me Badd took over the stage at this year's Retrolicious at Fort Canning Park."
– Yahoo!, 13 Feb 2015


"More than just a concert, it's an unbelievable reunion of arts, TV, Film and Fashion of yesteryears in Retrolicious™ 2015."
– City Nomads, 31 Dec 2014